About Mike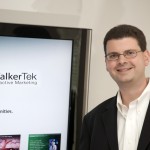 Mike Walker is an award-winning, 16-year Web marketing veteran. Mike has been involved with online marketing since 1995. He is currently CEO of WalkerTek Interactive Marketing, a business-to-business online marketing firm in northern NJ.
With a background in communications, Michael has spent several years in marketing as a Web Designer, Multimedia Specialist and Director of Interactive Services. Michael's experience in marketing allows him to bring a unique level of expertise to the development and marketing of brands, from both a visual and functional perspective.
Mike's articles on search marketing and social media have been published in several magazines and online portals including New Jersey Business, NJ Biz, and several trade specific publications. WalkerTek has been named as one of the top Business to Business marketing companies in the country by BtoB magazine for the last 3 years. Mike serves on the board of the Business Marketing Association of NJ and has recently provided sold-out seminars on social media to the BMA as well as private social media consultations to several corporations.
Mike has been into photography since the mid 80's and has worked as a photographer for some regional NJ newspapers. Most of his current work is commercial or personal.
Mike graduated from William Paterson University with a B.A. in Communications.
Comments
comments